The Passive Housing affordable development at 2980 Park Ave. (Photo by Natalie Peart)
You Have to Be in It to Win It
Housing lottery winners get the chance to apply for subsidized apartments
By Jason Gonzalez
Thousands of applicants hope to make it through a multi-step process to get the opportunity to rent one of the hundreds of new South Bronx apartments officially designated "affordable."
It all comes down to a random selection of eligible renters. Understanding the process is critical for anyone seeking a chance at winning a housing lottery.
What is a housing lottery?
Lotteries are one way that housing agencies select tenants for below-market rates—rents less than the average in the area. Normally, agencies—both nonprofits and government affiliated—use computer programs to randomly select lottery winners from the applicant pool. Those applicants can then continue in the process. Winning a lottery slot does not automatically get you an apartment.
What is "affordable"?
Affordable housing in New York City is based on a household's percentage of the median income in the New York City area (AMI). Housing is deemed affordable when the cost is about 33% of a household's income.
In a few instances, all units in a development are designated as affordable and available through a lottery. Most new high-rises in the South Bronx offer a combination of market-rate and affordable units, which are subsidized by the city.
Who is eligible to apply?
We asked Ilaine Perez, community and social service intake coordinator at Nos Quedamos/We Stay, a South Bronx-based community-development corporation, to spell out the process.
Half of all units offered through a lottery must go to residents of the surrounding community district. So South Bronx residents have a leg up when applying for new housing in their neighborhoods.
How do you apply?
You can find and apply for available units on the city's Housing Connect site. Applicants are required to create an account and answer questions that pertain to their employment and income. You can also apply through the mail without losing an advantage.
It's vital to complete each application on time. You also must update income information before applying for another new lottery.
There is no restriction on the number of lotteries that you can enter. Duplicate applications from the same household for one apartment will be disqualified. Fraudulent or incomplete information also will result in disqualification.
  Traffic at sundown near Third Ave and 149th Street. (Photo by Moses Bustos )
What happens to my application?
Once received, an application is reviewed for eligibility for a specific apartment. Then each application is put in a random order and given a log number.
"You're actually applying for the lottery of that apartment," Perez said. A new application is required for each apartment in the lottery system.
The building developer then reviews the application files, starting with the lowest log number. The randomized system is designed to ensure equity. Veterans, senior citizens, municipal employees and people with disabilities and impairments living in the surrounding community are given preference.
Perez explained that municipal employees, veterans and residents of the area have a better percentage with respect to the rankings. Their chances increase by 5-10 percent, however they do need to meet all of the other requirements. Victims of domestic violence are not grouped in this category.
How long is the wait?
Perez said that the process can take from two to 10 months. The lower your log number, the better the chances of being called for an interview.
What determines getting an apartment?
Qualifying and being selected for a unit are two very different things. Background, credit and housing court history will be considered. The criteria can vary depending on the housing agency. For more details, visit Housing Connect.
The guidelines recently were updated to accommodate the eligibility for survivors of domestic violence and to prevent discrimination. Applicants rejected due to poor credit history are able to contest the determination.
If you are selected in the lottery, you are required to complete an interview with a member of the development company. If you pass the interview, the building's developer will submit an approval request to the city Department of Housing Preservation and Development , which then creates the lease.
How do the waiting lists work?
Once an affordable housing unit is leased, the remaining qualified applicants are placed on a waiting list.
"From the thousands of applicants, it narrows down to just a couple of hundred," Perez said. "From the hundred it goes down to just a few people."
All of the applicants now have a new, lower randomized log number. Developers notify those on a waiting list when new units become available. Applicants have to state in writing every six months that they want to remain on the waiting list.
Can I appeal a developer's rejection?
Rejected applicants have 10 business days to appeal if the developer rejects them. An appeal letter must explain why the applicant believes that they qualify. If the appeal is denied, an applicant can file a complaint with Housing Preservation and Development officials within five days.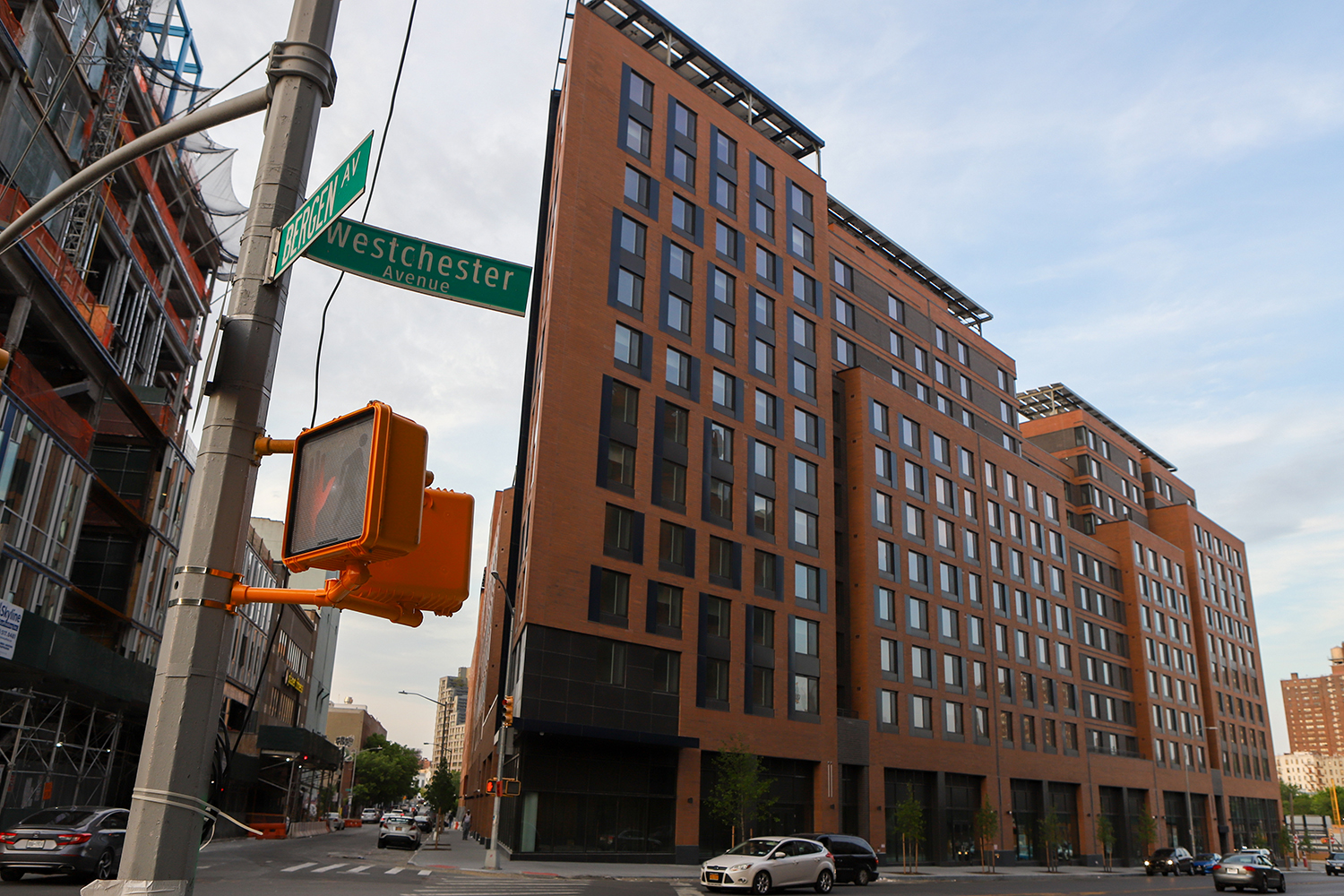 The La Central affordable housing development is open in the Melrose section. (Photo by Moses Bustos)
Why "Affordable" Rent May Not Be
By Griffin Kelly
It all depends where you stand on the AMI chart
Plenty of the new housing developments along the Harlem River waterfront—Bankside, Lyra, Bronx Point—will offer "affordable" units.
To see if you're eligible to live in one of these affordable units, you'll first need to understand area median income (AMI), the calculation the U.S. Department of Housing and Urban Development uses to determine what is officially labeled affordable in a region.
AMI is found by measuring household incomes, and it's not a perfect benchmark.
The New York City region's AMI is determined by looking at household incomes in the five boroughs plus Rockland, Putnam and Westchester counties. That can confuse and frustrate a lot of city residents.
Putnam is at least an hour away from the city by car, and both Rockland and Westchester actually have their own AMI calculations. AMIs there are determined by looking at household incomes in those individual counties. Yet they are still included in New York City's AMI calculation because HUD bases that calculation on Metropolitan Statistical Areas — urban areas with a lot of social and economic interaction with surrounding communities. The theory is that people who earn more but live farther from their jobs and spend more time and money getting to work in the city still may need housing assistance.
The only way to challenge HUD's AMI calculations for a given area is to get Congress to approve a change. Congressional representatives from New York City, including Rep. Yvette Clark and former Rep. Jose Serrano, have tried to get HUD to remove the wealthier communities from the NYC AMI, but have been unsuccessful.
As a result, "affordable housing" isn't synonymous with housing for poor people. You can make quite a lot of money — such as $196,845 for a family of four — and still be eligible for some of the highest end affordable housing. Developments can offer affordable units priced at anywhere from 30% to 165% of AMI, depending on a range of factors, such as private v. public financing, land costs, profit calculations and management costs.
This is the 2020 AMI chart for New York City.
To find what percentage of AMI your family income represents, first find the amount of people in your household, then go right until you see the amount of money you make. Finally, look at the correlating top row, and that will be your AMI percentage.
For example, in 2020, let's say you live in a four-person family, and your income is $114,000, then you are at 100% AMI.
However, not every household brings in 100% AMI – some a lot more, and others a lot less. Also, not every family is just four people. Some folks are single and live alone. Others might have six children in one home, which would lower their AMI percentage.
In an area like the South Bronx, where the median income is barely $25,000, many residents can't afford "affordable housing" unless units are offered at 30% to 40% AMI. The 14 new housing developments under construction or recently completed in the South Bronx include about 3,000 "affordable" units, with rents below market rate.
Developments tend to include affordable units because it means they will receive government subsidies for construction and operations. At least 20% of a project's apartments must be income-targeted to qualify for the city's affordable housing program.
When developments with affordable housing units are established, you might find a chart that looks like this example from the city's Housing Preservation and Development website, which explains monthly rent.
If you want to determine what your rent would be, you first find your AMI percentage and your desired unit size. In this example, let's say you make 70% AMI, and are looking to get a two-bedroom apartment. If you meet affordable housing qualifications and prevail in the city's housing lottery, you would pay $1,622 a month in rent.